Heart of Glass
The Village Voice, February 1994
By Samuel Fromartz

<! p><! strong><! /strong><! /p>
A friend of mine recently visited her grandmother's apartment just days after she died and began sorting through a lifetime of pictures, choosing some, discarding others, quietly creating a document of the past. What stays, what goes, she wondered. Just a week earlier we had viewed Arlan Huang's installation "Heart's Desire" at the Chinatown History Museum, in which Huang delves into this painful and revealing process. He has re-created his grandfather's apartment just steps away from the real tenement where the man lived, assembling a narrative with paintings, family snapshots, glass sculpture and writing.
The artist makes clear that his conception of the past is anything but tidy. This is an archeology of the self with hints, dead ends, and puzzles amid images of stunning clarity. Viewing this haunting and compelling show, you can't help but imagine how you would represent yourself, merging the photo album with the unspoken, even unknown, past.
The 13-year-old museum is in a former public school on the corner of Bayard and Mulberry streets in Chinatown. It's fitting that the show is here, two flights up from the food stalls, street vendors and crowd in the street below. Huang writes on the outside wall of the installation that his grandfather's grocery store is still on the block, and up here in the corner of the gallery is his dingy tenement apartment, filled with the objects of his life: pictures, kitchen utensils, an old telephone, a tin of butter cookies, hand-worn dictionaries, a metal fan, pots chopsticks, toothbrush. A date on a wall calender fixes the room in a moment in time ( a significant date, as it turns out, if you find the clue in his paintings).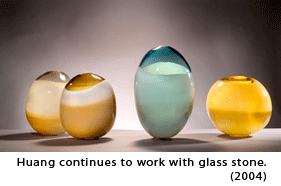 Huang has created this environment as a setting for his glass sculptures. In the middle of the room, a kitchen table is piled with glass stones that you instinctively want to grab. These are radiant objects — blue, green, black, yellow, orange, some clear, others opaque. It's as if meteors of uncommon beauty had landed in a Chinatown tenement to endure, bestowing recognition on the person who lived here. Look off to the side and there's a dirty wire-mesh window to nowhere. The light in this setting comes from inside, from this table. Each stone is etched with a Chinese character (numbers, I later found out) and the piece is titled 100 Smooth Stones for Grandfather. It refers to a special story his grandfather told the boy about smooth stones, eels and latrines.
Off in the corner is another sculpture, sitting delicately on an ebony pedestal in a corner wall cabinet. Inside this voluptuous blown-glass vase, decorated with etched fish scales and sculpted shark fins, is a severed hand. Wrapped in string, pickling in liquid next to a bound animal claw, the hand reaches upward as if to grasp an unknown object — but it cannot, for it has been cut, preserved and made into a revered object. The jar is surrounded by medicine bottles, opium pipe and faded Asian girlie pictures. These are the family ghosts, the remnants of memory or mythical rites — we don't know. Even the family name, it's clear from a purposely frustrating and jumbled wall-narrative, had been changed time and again.
"Grandfather's real name was Wong; his paper name, the name of the sponsor he claimed as a relative in order to immigrate was Dong," Huang writes on the outer wall of the installation.
And in another section: "By and by, Grandpa changed his name to Jones. It sounded good to him..."
His grandmother had multiple names. "We called her Ngin-ngin, daddy called her Ma-ma, grandfather called her Ngin. On her documents, grandma is named Chin-shee, 'one of the Chins.' Women didn't have their own names, so you would say 'one of the Chins' or a 'Chin person.'"
Huang wants to create a past for us, and yet he can't even tell us his name. His collage paintings, hung outside the tenement setting, strive to create a lineage out of snapshots, but unless you examine them closely, they are a sea of faces. Even when you unravel the connections, you get only the gist of the story. These richly textured canvases, on which pictures are pasted next to one another, amid news items or brief references, are a messy "basement." The artist seems to want to give order to this past, but knows that he fails and admits there are those things he won't reveal. What you are left with are moments of "truth" (his stones of enduring beauty), and the homage to the unspoken (the severed hand, straining to attain but cut off, preserved for posterity).
I first came across Huang's work as a teenager in the early 1970s while leafing through Yellow Pearl,the book produced by a group of young Asian-American artists and writers in the now sadly defunct Basement Workshop in New York's Chinatown. As a hapa(Eurasian), I was immediately taken by the work, which tried in many different ways to establish a cultural identity: telling the story of our parents, the immigrants, laundry workers, railroad workers; victims of racism, exclusion, and internment. It was marked by anger, delved into origins, reflected on America and became the venue for seldom heard voices. It sprang, like all art, from a need to create a new language of expression.
But once that groundwork was laid, it became important for artists to move on. This was a difficult step. It meant leaving both familiar and exciting ground; some artists couldn't do it so they revisited the early issues again and again. The questions were still vital — "Who am I? How to I represent myself?" — but they had to be answered in a new way.
One piece in Yellow Pearlwas Huang's "Mulberry St.," a silkscreen print that centered on a photo of the artist flanked by his grandparents. He was to come back to this image 20 years later in the paintings in the Chinatown History Museum, but by then the scope of his exploration had vastly changed. What Huang did in the interim was to find a new way to explore those potent questions of identity by making the process itself a subject of his art. It's not just the images that confront the viewer, but the way in which they are chosen, arranged, juxtaposed, set within one another, and interpreted. He not only asks, "Who am I?," but, "How do I know and represent who I am?"
I am not sure that Huang self-consciously set out to move his work forward in this way, but he did, even if it occurred in fits and starts. In retrospect, it seems strange that Huang turned to minimalism in the early '80s for his answers. In the circle, square and triangle of a Sol LeWitt series, Huang found the symbol of the YMCA of his youth. In a heretical take on the work, he wrote the names, places and things associated with that past inside the fixed shapes, giving a history to this stark geometry. He didn't need to create a narrative, he found a form readily at hand and appropriated it.
Then he loosened up, turned back to printmaking and paint, but probed the same themes. In one series, he paid homage to the early Asian actress Anna May Wong -- part sex symbol, part virago, a Billie Holiday-like figure caressed by combs and penises in the air. But in a disturbing twist, this enraged, disrobed Asian woman is also a turn on. The viewer becomes her public, the ones who watched her films, the ones who debased her, the ones who desire her.
Anna May Wong was defined by her context in the same way that boundaries define any person, whether racism, sexism, a spotlight (or the lack of one), the four walls of an apartment. Huang places his sculpted glass in his grandfather's tenement but they could easily stand on their own in a stark white gallery. Alter the context — the narrative in which the subject appears — and the meaning shifts.
The known, the unseen, the hidden past. These are the luminescent glass rocks in Huang's world, the receptacles of hope and fear. This dense legacy is encased in a glass vase, on a shelf, in a dead man's apartment, in a museum, in Chinatown, in New York, in America, defining a self, becoming a thread in American culture. There are no tidy stories here, no Hollywood endings, no in-your-face statements, just bits and pieces of a soul strewn together with skill and beauty. On the back of a snapshot that Huang has plastered to a painting, his grandfather has written, "Arlan — take care of this for your future." Indeed, for our future.
Copyright © Samuel Fromartz, 1994-2006 All rights reserved